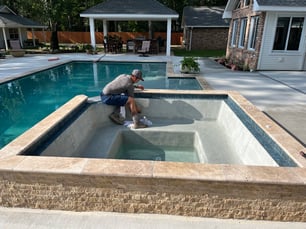 Swimming pools are a significant investment in your home that adds a source of leisure and enjoyment. You're on the right track to increasing your outside space if you're thinking about remodeling your swimming pool. Let's take a closer look at some ways to help you through the pool renovation process. Whether you're wanting to update the aesthetics, improve functionality, or increase energy efficiency, a magnificent swimming pool can be designed and created through renovation.
Set Clear Goals for Your Pool Remodel
Establish your goals before you begin remodeling your pool. Establish the goals for the renovation and their purpose. Are you going for a contemporary, sleek look? You can also wish to include extra elements like a spa, waterfall, or slide. You can effectively express your desires to the project's personnel if you have a clear picture in mind.
Budget Your Pool Renovation Wisely
Any pool renovation job must start with a sensible budget. Consider the price of the materials, labor, permits, and any extra features you wish to include. To make sure you get the most return on your investment, compare several suppliers, contractors, and designers. Don't forget to set aside money for unforeseen costs that can occur during the renovation process.
Seek Professional Guidance for a Pool Remodel
Working with seasoned experts is crucial for a swimming pool remodel to be effective. Consult with pool remodeling experts such as architects, contractors, and designers. They can help you through any legal or regulatory requirements, provide professional guidance, and produce comprehensive plans. To ensure that your project is in capable hands, look for reputable experts with a successful track record.
Consider Energy Efficiency for Your Pool's Equipment
Your pool's energy-saving features can cut down on operating costs and have a minimal negative environmental impact. Investigate alternatives including LED lighting, solar heating systems, variable-speed pumps, and energy-efficient pool covers. These improvements not only help you save money over time, but they also make the pool greener and more sustainable.
Focus on Safety with Your Pool Renovation
During the renovation, improving pool safety should be given high attention. If you have kids or dogs, include safety elements like gates, fences, and non-slip surfaces to prevent mishaps. To add an additional degree of security, think about installing an automated pool cover or alarm system. Never should aesthetics come before safety.
Upgrade Your Pool's Surrounding Space
More than just the water itself makes up the pool area. Update the pool's landscaped area to improve the ambience overall. With cozy seats, shady lounging areas, and lovely planting, create a practical and welcoming poolside area. If you want to use the area for activities other than swimming, think about adding amenities like a fire pit, outdoor kitchen, or a pergola.
Select Quality Materials for Your Pool Remodel
Committing to high-quality materials can ensure a continued lifetime of your pool renovation. Pick materials that can withstand pool chemicals, ultraviolet light, and wear and tear. To find the ideal materials for your unique demands and preferences, consult your pool designer. If your pool is being replastered, it's important to provide water samples to a certified pool water testing store. A weekly record of the pool water being tested may also be required for any warranties.
Don't Neglect Maintenance After Your Pool Renovation
After your pool renovation is finished, it's important to create a routine pool maintenance schedule. Your renovated pool will remain attractive and useful with the right care and upkeep. Maintain the water's chemistry in balance, clean the pool and its parts frequently, and adhere to the suggested maintenance schedule. Regular professional inspections and maintenance checks will aid in identifying and resolving any possible concerns before they become serious.
Lucas Firmin Pools builds, renovates, remodels, and services pools across the Baton Rouge area.