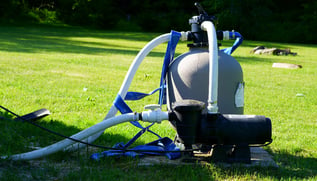 There are a lot of variables to consider when it comes to your pool's pump. Making the right decision can save you a lot of money in the long run, while keeping your pool clean and healthy. Let's begin with the basics. The pump pulls water from the pool, through the skimmer and main drain, then pushes it through the filter before returning it back to the pool. Sounds pretty simple, but there are a lot of differences that can influence the energy efficiency and performance of your pump, both of which can have an impact on your wallet.
Compatible Electric Supply for Your Pool's Pump
Different pumps have different specified voltage requirements. While some pumps can be wired for any voltage output, installing the pump to an incorrect voltage can damage it. You can mitigate the risk of equipment damage, poor performance, and wasted energy by ensuring power compatibility. Your pool builder will not only be able to recommend the best pump for your needs, but also ensure that it is installed correctly.
Energy Efficient Pool Pumps
It's no secret that owning and operating a pool is going to increase your energy bill. With an energy-efficient pump, you can reduce the additional electricity costs. While pumps with a superior energy rating are more expensive, they can pay for themselves over time. They also provide more power, less noise, and enhanced performance.
Adequate Pump Size for Your Pool
The size of your pump should be congruent with the size of your pool. If the pump is too small it won't be able to keep up. If the pump is too big you'll be wasting energy. Your pool's pump should be able to turn over the water in your pool in 8 to 10 hours. Again, your pool builder will be able to guide you through the best options for the specific size of your pool.
Lucas Firmin Pools builds custom-designed pools in the Baton Rouge area and uses Jandy pumps. Jandy pumps maintain a set flow rate that adapts to changing conditions and are 90% more efficient than standard pumps.