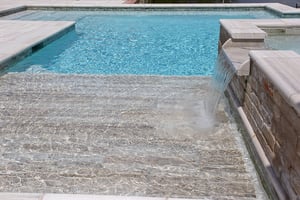 When you shop for a car you have a lot considerations to make when deciding on the different options that you want or need. Leather seats? Bluetooth? Entertainment system? Engine size? All of these decisions will influence everything you experience, every time you drive. Designing your custom pool is a similar process. While layout, shape, size, and more are all important, the types of water features you want to include can drastically change how your pool will look, feel, and function. Let's take a closer look at the different types of water features you can incorporate in your pool and how they work.
Sheetfalls Water Features
Sheetfalls, or sheer waterfalls, offer a modern vibe by creating a thin sheet of water that arcs into the pool. This feature can be easily integrated into any design, and is nice alternative for pools where a rock waterfall may seem out of place. Sheetfalls also run off the pool's pump system, making them more economical to operate.
Rock Waterfalls
Rock waterfalls are a popular water feature. They are especially ideal for freeform pools and add to a natural feel and appearance. These carefully designed rocky structures allow water to trickle, flow, and cascade into and around the pool in predetermined locations.
Pool Deck Jets
Deck jets are a great option for shallow areas like a tanning ledge, or even on the pool deck itself. These jets shoot water vertically into the air. This feature can be turned on and off, making it a cost-efficient option.
Pool Scuppers
This small water feature is a small opening or slot where water can reenter the pool from a small ledge. Scuppers are an easy to maintain water feature that creates the soothing sound of flowing water.
Spillover Spas
If you are planning to have a spa connected to your pool, a spillover spa can be an ideal water feature. The sound of falling water creates a relaxing, ambient environment. With a hot tub raised above the pool, water simply falls over into the pool.
These are only a few of the many options you'll have when it comes to selecting water features. The most important decision you can make is selecting the right builder. Lucas Firmin Pools builds and maintains custom pools in the Baton Rouge area.