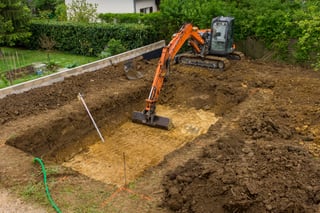 So you've decided to build a pool. Or at the very least you've decided to start thinking about building a pool; and while many of your thoughts are centered on pool design, landscaping, furniture, and those relaxing summer afternoons, and rightfully so, there are some other important things to consider. Let's start on the ground level, actually below. Here are 3 questions you may not think to ask, but should when the time comes to build your in-ground pool.
What happens if there is water or rock underneath my yard?
For the most part based on your area and your pool contractor's experience, you can gauge the likelihood of finding rock or water beneath your yard. However there are some options if you strike rock:
The pool can be moved to a different area of the yard with less rock.
The pool can be elevated in the same location.
The rock can be hammered or blasted out, however this can increase the cost of installation.
There are also options if you find ground water beneath your future pool:
A dewatering system can be installed to keep the hole dry while the pool is being built.
The pool can be elevated to avoid the groundwater.
What will happen to my yard while the pool is being built?
Having appropriate expectations of how your yard and landscaping will fare during your pool installation is important. Hauling dirt, equipment, and materials via an access lane will create some damage. The grass around your pool's site will also need to be replaced. This is obviously expected as major construction goes on in your yard, and new landscaping and sod should be part of your plans for your new backyard oasis.
How much dirt can I expect as my pool is being built?
So a big hole will be dug and with that there will be a lot of dirt. But how much and what do you do with it? The amount of dirt will directly depend on the size, shape, and dimensions of your pool. Some of this dirt can be used to adjust the terrain of your yard, the rest can be hauled away.
These are all questions that you may or may not have thought of, and they are all questions your pool builder should be able to answer and have a solution for. Lucas Firmin Pools designs, builds, and services custom pools in the Baton Rouge area.