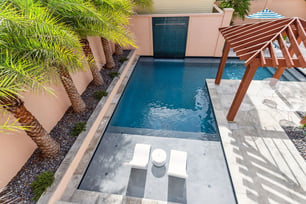 Remodeling. Just reading that word may fill you with dread. The thought of assessing the scope of the remodel, comparing bids, and choosing a contractor has your stomach in knots. But if your home or pool needs renovating, there's no way around it.
Damage and disrepair aren't the only reasons to renovate your pool. In fact, there are four major reasons to consider remodeling your pool this year.


Remodeling to Address Structural Issues in Your Concrete Inground Pool
If you are struggling with leaks, faulty filters, or a malfunctioning plumbing system, it's time to call the Baton Rouge pool remodeling experts. Whether these issues are due to regular wear-and-tear, damage from a natural disaster, or problems from the original construction—like mislaid pipes—a skilled contractor will be able to identify the source of the problem and come up with a comprehensive solution for you and your inground pool.


Inground Pool Renovation to Remedy Physical or Cosmetic Defects
While not structurally damaging, stains, uneven textures, and other cosmetic defects do damage your desire to use your once-beautiful inground pool. Bring the appeal back to pool ownership by treating your concrete pool to a well-deserved makeover. Replacing chipped tile and resurfacing your pool—which can grow rough over time—will prevent minor injuries and bring the beauty back to your Baton Rouge pool.


Renovating Your Baton Rouge Inground Pool to Accommodate Your Needs
Your gunite pool has served you and your family for many years. But your needs have changed and you can't exactly leave your pool to gather dust in a corner, can you? Whether it's turning an outgrown children's pool into something adults can enjoy—like a cocktail pool or spa—or adding rails and wider, shallower steps for ease of use at every age, there are vital changes an experienced contractor can make to create a pool that suits your current needs.


Remodeling your Concrete Pool in Baton Rouge to Increase Resale Value
Are you considering selling your home? If you aren't, a remodeled pool can breathe fresh style into a stale backyard. Consult with a pool building expert on how pool renovation can help your home make a splash in the Baton Rouge real estate market.
Don't cope with an unappealing or damaged pool. Consult with the Baton Rouge pool renovation experts at Lucas Firmin Pools today to turn the pool you have into the pool you'll want for years to come.