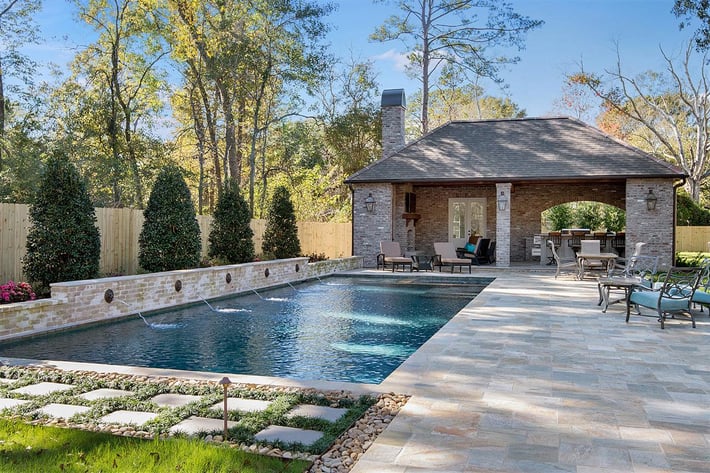 At Lucas Firmin Pools, we regularly service over 75 pools each week—residential and commercial—in the Baton Rouge area. All our service technicians are Certified Pool Operators® and go through extensive training on servicing pools and water balance treatment. We offer weekly service year-round.
What does Lucas Firmin's weekly pool service visit include?
Our weekly service visits include the following regular pool maintenance in Baton Rouge:
Blow off all deck areas around the pool, walkways leading to and from the pool, outdoor seating areas and kitchens, pump pads, and pool furniture
Empty skimmer baskets
Brush tile line
Net all debris on the water surface
Hammerhead debris on the pool floor, including sand and grit
Vacuum fine sediment
Test water (using Taylor FAS-DPD test kit) for

chlorine (total, combined, and free chlorine)
salt levels
pH
alkalinity
calcium
cyanuric acid

Record and report results of water testing
Check pumps and equipment for leaks or issues, repair and/or report if needed
Empty debris from pump pot strainer baskets
Check and note filter pressure
Backwash/rinse filter if needed
Apply chemicals to pool to adjust water balance
Brush entire pool, steps, ledges, walls, and pool/spa floor
And finally, we hang our door hanger, which indicates date of service and any issues or concerns, if you are unavailable!
What chemicals does Lucas Firmin Pools use in pool maintenance?
In maintaining proper water balance for the beauty and safety of your pool, we use the following chemicals, which are included in your monthly service charge:
Chlorine tablets/shock/salt
Acid/sodium bicarbonate/soda ash
Calcium
Stabilizer
Are there any chemicals or consumables which are not included in the monthly service charge?
If deemed necessary for the safety and longevity of your pool, these extra services and equipment may result in an additional fee:
Metal remover
Stain treatment and removal
Phosfree®
Skimmer baskets/potstrainer baskets/gaskets/Polaris bags and parts
Filter cleanings/sand charges
Pumps/filters/cleaners/timers/control panel boards
Our certified pool service technicians will consult with you and report any extra services or repairs your pool may require beforehand.
How is my weekly pool service visit scheduled?
Pools are scheduled for certain day of the week and are generally serviced around the same time of day each week. Depending on weather, illness, or other unforeseeable events, the service day for your pool may be pushed back to the next day and you will be notified. If you are having an event or party at your house, we do our best to adjust your service date for that week so your pool will be in tip-top condition for your guests!
How can I get my pool regularly serviced by Lucas Firmin Pools?
Instead of spending your free time testing water balance, cleaning filters, and constantly skimming debris, wouldn't you rather spend your evenings enjoying your pool? Give the pool maintenance experts of Baton Rouge a call to find out if our comprehensive maintenance package is the right fit for your pool and schedule!