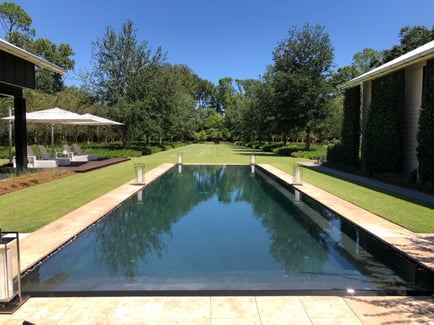 Perimeter overflow, vanishing edge, or infinity pools offer an enchanting and elegant design for a residential pool. Pool designs have rapidly evolved over the years. Shapes, styles, materials, technologies, and more have allowed pool builders to bring your backyard oasis to the next level. Blurring the lines between the horizon of your pool's construction and its border can be achieved with water in-transit effects. This look can be achieved in a variety of ways, no matter the shape, slope, or size of your yard.
What are Perimeter Overflow Pools?
Infinity, or vanishing edge pools, all leverage a design and construction strategy referred to as perimeter overflow. Several effects can be created with perimeter overflow. The water can be forced to flow over a raised edge of the pool. It can flow over every edge of the pool and cascade down an exterior riser. It can also flow over an angled pool coping, traveling into and through a slot at the back edge.
Essentially perimeter overflow pool leverage the use of a receptacle, like an underground gutter, allowing the pool to fill until it, well, overflows. This pool design does require the catch basin to be cleaned, in addition to the pool itself. It is also important to keep an eye on your circulation system. Should a pump or filter become clogged, the recirculation that creates the overflow effect won't be possible.
A perimeter overflow pool can offer a relaxing and eye-catching atmosphere. The most important decision that you can make when building any pool is selecting the right pool builder. Lucas Firmin Pools expertly builds custom-designed pools, including perimeter overflow pools in the Baton Rouge area.