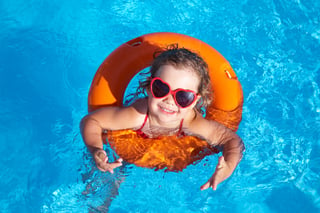 Did you know that 47% of children that suffer swimming pool injuries experience them at residential pools? Scarier yet, drowning is the number one cause of unintentional death for children between the ages of 1 and 4. While these statistics can be startling there are many simple and highly effective ways to protect yourself, your children, and your guests in your pool. Here are a few helpful safety tips to keep everyone in and around the pool safe year round.
Make Sure You Have the Necessary Pool Equipment
There are a lot of precautions you can take from an equipment standpoint. Pool covers, fencing, gates, hand rails and more all help to ensure that accidents are avoided. A sturdy pool cover can prevent anyone from falling in when the pool is not in use. Self-latching gates and fencing that is at least 4 feet high can keep children from wandering near the pool. Also, if you have a door that leads out to your pool area, you can install a door alarm to alert you if someone heads that direction. Flotation devices and a pool hook are also good to have on hand. Also check your pool's drains and suction covers regularly. If they are damaged or missing, replace and repair them immediately.
Teach Basic Pool Safety Skills
Providing your children with the basic skills and lessons to feel confident and safe near water is essential. Whether they are at your home, on vacation, or at a friend's, they'll recognize how to avoid dangerous situations, as well as how to handle them. Simple rules like not running around the pool and looking before they jump in are a good start. It is also important for them to know how to reach for a pool hook or flotation device and how to swim to the nearest wall or a depth to where they can touch.
Keep Your Pool Clean
A clean pool is a happy pool. While pool maintenance goes hand-in-hand with pool ownership, it is important for much more than aesthetics. Having clean pool water and well maintained pool equipment is also a key safety factor. Cloudy or discolored water can make it difficult to see both in and out of the pool. Maintaining visibility of everyone while they are swimming is critical. Also dirty pool water can lead to bacteria and germs that can irritate eyes, skin, and even cause illness. This is why monitoring your water's water level and treating with the appropriate chemicals is so important.
These are only a few examples of how you can keep your backyard pool safe year round. A pool is a wonderful enhancement for any home and can be a place where family and friends make new memories for many years to come. Promoting a safe environment will make the cannonballs, cookouts, and swim parties all the more enjoyable.