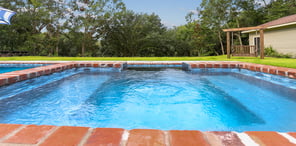 Having a spa in your backyard is a great way to relax and unwind. Whether it's after a long day at the office, or you're rehabbing some sore muscles, your hot tub is a welcome retreat. It really only has one job, and it's right there in its name; be hot. Now during a hot south Louisiana summer, it needs little help to accomplish this goal, but during the cool fall and spring months, not to mention our brief, yet cold winter, your pool or spa's heater will be providing the heat. So what happens when your hot tub's heater doesn't turn on? Here are a few of the common reasons that your spa isn't heating.


Check Your Hot Tub's Thermostat
Just like inside your home, the temperature of the water in your hot tub is regulated by a thermostat. If the water isn't heating or reaching your desired temperature, check your thermostat's setting. If everything looks fine you can investigate further by inspecting the cord and looking for damage.


What is "Low Flow" in a Pool or Hot Tub
A dirty filter can create "low flow" in your spa or hot tub. If you notice it isn't heating as it should, remove and clean the filter to ensure that pressure and flow rate aren't the issues. Flow issues can also be caused by a block spa drain, clogged pipes, closed valves, a clogged pump impeller, or simply a low water level.


Check Your Spa's High-Limit Switch
The high-limit switch in your hot tub is similar to the pressure switch. This component is a part of the safety circuit. It is designed to prevent the heater from overheating. These switches are calibrated to shut off at a predetermined maximum temperature. When this temperature is reached, the switch will open, breaking the circuit that powers the heater. Low water flow, incorrect voltage, and loose wire connections can all be causes for a high limit switch to malfunction; preventing the hot tub from properly heating.


Hot Tub Wires, Fuses, and Breakers
Like with any machine that runs on electricity, the components that complete and power the circuits generating the power need to be intact and functioning. While these problems can be frustrating, they can also be simple to fix. Make sure that all connections are tight and not oxidized. Check for blown fuses. Check your GFCI to see if it is tripped.
Lucas Firmin Pools builds, maintains, and services custom pools, hot tubs, and spas in the Baton Rouge area. If your pool or spa isn't heating, or its time to update or upgrade your pool or spa, the expert team at Lucas Firmin Pools is here to help.