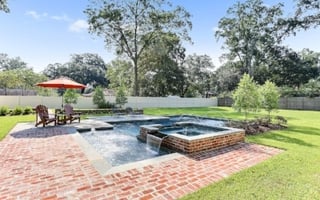 Many things on their own are pretty great as they are. Chocolate, peanut butter, refrigerator, freezer, phone, mp3 player. However, when combined they become something greater than the sum of their parts. This is synergy at its finest, and the same is true when it comes to designing your pool and spa. While independently they both offer a number of benefits, comfort, and value. With a custom, contemporary design, combining your hot tub with your pool enhances everything from aesthetics to functionality.
An attached spa has a lot of different design options that can be customized to meet your taste. Whichever type you choose, your spa will blend seamlessly with your pool and offer wide range of new amenities.
Naturalistic Spa Design
A naturalistic design will incorporate your landscaping and can include rocks, water features, and a combination of other natural formations that compliment your space.
Spillover Spa Design
The spillover design is a popular one. With the spa is placed directly next to the pool, allowing water from the spa to overflow and spill into the pool; creating a calming sensation both visually and audibly.
Customizing Your Attached Spa
Your spa can be customized to provide all of the things important to you. LED lighting, massage jets, and bubbling systems can be included. As far as seating goes, an average 6 ft. diameter spa can seat 6-8 adults, while a larger 8 ft. diameter design can hold 8-10.
Maintenance and Energy Efficiency
Your spa and pool will use the same pump and filtering equipment, circulating the same water. This means that there will be no need for extra equipment, unnecessary energy consumption, and easier maintenance.
In addition to the aesthetic advantages, an attached spa is also a great way to ease aches and pains, confine the kids to smaller area in the water, and socialize with friends and family. Lucas Firm Pools designs, builds, and maintains custom pools and spas in the Baton Rouge area.