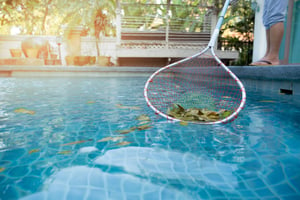 There is a lot to during the fall in south Louisiana. Of course, football season is in full swing, the kids are back in school, and your pool likely isn't as active as it was all summer. Your new schedule changes range from school pickups to practices to tailgates and more. But it also directly influences how you care for and maintain your pool.
There are a number of factors at play. A reduced amount of activity in your pool will change how frequently the water needs to turnover. It also impacts the amount and types of chemicals you'll need. The changing weather, along with falling leaves, will require some special attention to prevent stains and other potential damage to your pool's structure and its systems.
However, there are a few easy steps you can take to transition your pool from summer to fall. Keep the water clean by skimming out debris, emptying skimmer baskets, and scrubbing the surfaces of your pool. Test the pH weekly to make sure that everything is in balance. Here is a helpful infographic complete with all of the tips you'll need to keep your pool safe and clean.

Lucas Firmin Pools builds custom pools and offers service and maintenance for residential and commercial pools in the Baton Rouge area.