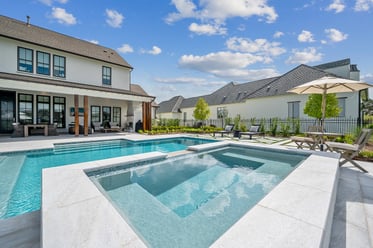 Whether it's to relax after a long run, unwind after a long day, or to warm up after a brisk swim; your hot tub serves a lot of purposes. And, while the winter months may make your pool too cold to swim, your adjoined spa can be used year-round. So with no expected off-season, it's important to keep it clean and well maintained; doing so can save you time and money later. The good news is that maintaining your custom hot tub is pretty simple. Here are a few tips for keeping it clean and in great shape.
Keep the Surface of Your Spa Clean
Keeping the surface around your spa clean is important and easy. A baking soda and water solution can help maintain spotless tile and other materials. Removing algae, dirt, stains, and other debris not only keeps your spa looking great, but it also helps keep the water clean.
Remove any Debris from the Water
Just like your pool, keeping debris like leaves, dirt, and other things out of your water is essential. If these items are allowed to stay in the water and sink, they can stain the interior of your spa, and possibly damage your pump and filter equipment. Simply skimming the water on a regular basis and removing any sunken debris when necessary, will keep your water and hot tub clean and clear.
Maintain the pH Balance of the Water
Maintaining the pH balance of the water in your spa is another simple, yet important task. This ensures that the water in the hot tub is both clean and healthy. The good thing is that with an attached spa, the water that circulates through your pool, also flows through the hot tub. However in seasons when you aren't in the pool, or in it as often, but still using your spa; you can check the pH levels in the hot tub to ensure they are where they are supposed to be.
Run the Heater at Least Once a Month
Even in the warmer months when the hot tub is naturally heated by the sun and humidity of south Louisiana, it's a good idea to turn on the heater on a regular basis. Whether it's a certain day of the month or every few weeks, running the heater will let you know that it's working fine, and you won't have any surprises when winter arrives.
Many of these practices are very similar, if not identical, to how you care for your pool and its water. The important thing to remember is that with your custom-designed attached spa, to pay attention to it as you do your pool. Lucas Firmin pools designs builds, and services custom-designed pools and hot tubs in the Baton Rouge area.