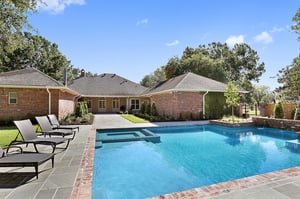 If you've been thinking about building a pool for your home, there are more things to consider than sunny afternoons and summer memories that you're sure to enjoy. Owning a pool is a lot of fun but also comes with many responsibilities. These duties will keep your pool safe, healthy, and enjoyable for years to come while protecting your investment at the same time. You also want to be sure that having a pool is everything that you think it will be. To help you make sure that you make the best decision, here are five things to think about as you plan to build your backyard oasis.
How much pool can you maintain?
As mentioned earlier, owning and maintaining a pool comes with some extra tasks. Testing and treating the water and skimming debris are all part of the job. The bigger your pool, the more work this can entail. If you would prefer to opt for less maintenance, a smaller pool, like a cocktail pool can be a great option.

Pool circulation system
The pump, filter, and circulation system acts as the heart of your pool. This is what keeps your water clean, clear, and safe for swimming. There are many pool pump options and other accessories that can keep your water clean and minimize maintenance.

Pool water features and lighting
When it comes to swimming pools, dynamic jets, underwater lighting, and cascading waterfalls can create the ambient atmosphere you crave. Take time to consider what additional water features you want for your pool before you build.

Landscaping around your pool
Do you want palms shading you from the afternoon heat or a pebble border around your pool deck? Like water features, lighting, and other accessories, proper landscaping can enhance the aesthetic pleasure a pool offers. You can get ideas online or consult with a landscaping company to create a pleasing, yet manageable green space around your pool.

Know how to choose the best pool contractor
The most important decision you'll make in the pool building process is selecting the pool building company that will actually build it. You will want some with not only experience, but expertise, and that can serve as a resource in helping you make the best decisions for your process.
Lucas Firmin Pools work closely with designers, architects, landscape architects, and homeowners to turn every pool into a personalized paradise.