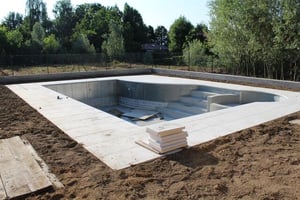 When you shop for a car, you have plenty of questions. How efficient is it? How reliable is it? What options are available? So on and so forth. The same is true if you're buying a new TV, new appliances, anything that is a considerable investment. The same goes for building a pool, especially so if you are trying to time it, so it's ready for spring to maximize its inaugural season. You have a lot of options when it comes to building a pool. From material and design to customization and features, there are a lot of decisions to make, and thus a lot of due diligence to perform.
This is the time of the year begin planning your pool's construction in order to be enjoying it when pool season rolls around. Here are a few important questions you should ask any prospective pool builder.
How Long Have You Been Building Pools?
Experience is everything. You don't want to entrust your home and your hard-earned money to someone that just decided to start building pools. A long track record proves that they do quality work, focus on their customers, and understand how to address the challenges and mitigate the risks that come with building a pool. It also ensures that your builder is applying years of experience during every phase of the project, and can explain each detail and answer every question you could think of.
Do You Have Any References?
References and reviews are critical in the decision-making process. Today it is easier than ever to find out about other people's experiences with a company. Discovering what people have to say about your prospective pool building company can be priceless. You can do this before ever making a phone call or filling out a form on a website. Pictures and videos are another great resource. Any company that is proud of its work will document it and make it available.
What is the Estimated Time to Complete Your Pool?
Each pool is different, but based on the materials, the design, features, and condition of the ground, an accurate estimation can be provided. Of course, weather can play a key role, but again, based on experience, your builder should be able to give an accurate timeline and communicate with you throughout the process.
What is the Estimated Cost of Your Pool?
Price can be a significant determining factor when deciding to build a pool and determining who should build it. Direct and honest answers surrounding the financial obligation of building a pool are best. Ask follow up questions about why certain things cost what they do, and consider getting a few other estimates to make sure everything adds up.
What Products Do You Use and Recommend?
The quality of your pool will greatly be determined by the types of products that your builder uses. From structural materials to equipment, be sure to find out what they recommend and what they'll be using for your pool.
While these seem like fairly obvious questions to ask, they are important ones and can help lead to other inquiries you may not have thought of before. Lucas Firmin Pools builds custom pools in the Baton Rouge area.