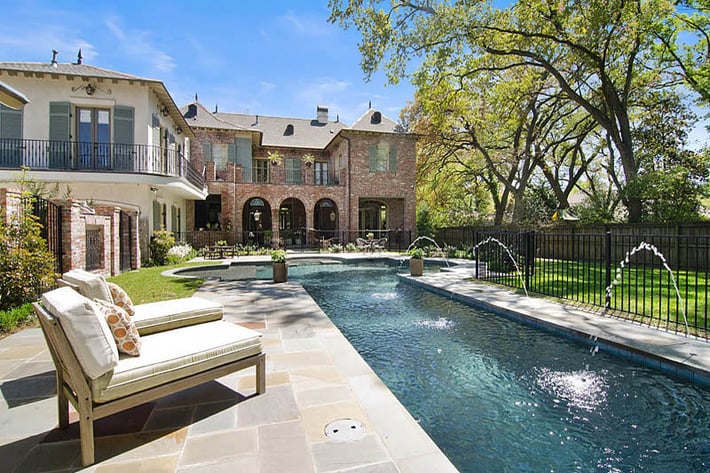 Okay. You've done your research. You've got a pretty good understanding of the pros and cons of above-ground, vinyl-liner, fiberglass and gunite pools in Baton Rouge. And now you think it's time to talk to your pool builder.
You're put off by the instability of a vinyl-liner pool. And the property-damaging nature of above-ground pools rules out that option too. But maybe you like the swift installation and low maintenance of a prefabricated fiberglass shell? Obviously, there are several factors to consider when designing your dream pool…so why are we so gung-ho for gunite?
We're glad you asked.
The Customizability of Gunite Pools
Sure, your available property is—to put it scientifically—a bit wonky. Maybe your yard is on the small side or has some interesting topographical features. Can a fiberglass pool accommodate your landscaping and terrain? While there are some factory-made fiberglass molds that will fit into small yards, a concrete pool can be tailored to suit your yard and your style. The customizability of a concrete or gunite pool's shape and size is ideal for limited installation spaces and challenging terrains.
The Durability of Gunite Pools
We're not going to lie to you. Like any worthwhile investment, a pool that is well-kept and adds value to your home is a commitment in both time and money. While fiberglass pools do have a shorter installation time and require less weekly maintenance, they are more susceptible to potential structural and gel coat problems, which can lead to spider cracks in the coating or blistering on the pool's walls.
While gunite pools do require more routine maintenance to prevent such problems as algae build-up and discoloration, they are generally more durable than other inground pools. When handled by pool maintenance experts, gunite pools can even be drained completely, which can cause even the most robust fiberglass pool to crack.
The Accountability of Gunite Pool Builders
If you've chosen to invest your time, money, and square footage into building a gunite pool, you're not willing to settle for just any pool contractor. Building a gunite pool in Baton Rouge is a multi-step process that can take from 4 to 12 weeks to complete. That's why you need a Louisiana pool contractor experienced in every step of the pool building process. From laying the rebar framework and shooting the concrete mixture to installing pool decking and accent lighting, choose a Baton Rouge pool building company that stands by their process and their product.
Lucas Firmin Pools doesn't just build quality inground pools, they strive to maintain your pool's beauty and stability for its entire lifetime. Along with their experienced team of pool building and maintenance experts, Lucas and Jenny are here to give you the pool of your dreams and keep it that way.
So what are you waiting for?