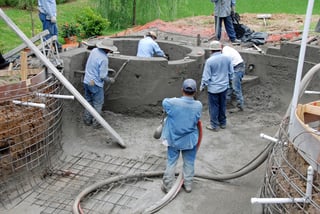 Making the decision to build a pool is an exciting time. Thinking of all the fun that will be had, and all of the memories that will be made around your own special oasis can make your head spin. One of the most important steps to making those daydreams a reality is to select the right pool builder. The best way to do this is to know what questions to ask. Here are four questions you should ask your pool builder.
Ask for references, examples of recent work, and how long they've been in business: This will show you what types of pools and projects a prospective builder can do. You'll get a sense of their taste, skill, and style. You'll know what to expect while they work on your pool by getting testimonials and examples from recent customers. 43% of pool contractors go out of business within 3 years, so finding a builder with a long track record speaks to their performance.
Ensure that the company is licensed and insured: This is a critical question to ask, and depending on the builder you choose, it will likely one of the first things that comes up. Swimming pool contractors must be licensed as such. While general contractors can build pools, they must hold a swimming pool specialty classification. They should also be insured to protect against property damage, as well any accidents or injuries.
What kind of pool do you want?: There are several different options when it comes to the design and operation of your pool. Your pool builder should be able to make appropriate recommendations that align with your desires. Some important factors to consider are budget, maintenance, and energy costs.
Ask for a project plan: This plan will layout the project from start to finish, so you'll know what to expect, and when to expect it. The important aspects of this plan will include: the pool's location, the pump's location, patio dimensions, an access lane for construction, deck and drainage considerations, and more.
These are only a few things to ask when you are considering who will build your pool. There will be many questions that come up, and a quality pool contractor will probably be able to answer most of them before you even have to ask. Lucas Firmin Pools designs and build customized pools in the Baton Rouge area.