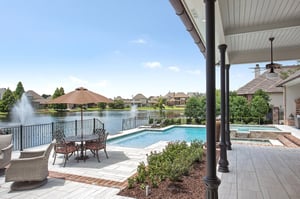 Every industry has its own vernacular and jargon. If you aren't familiar with ins and outs of a certain topic, it can sound like a foreign language. Whether it's medicine, engineering, technology, or something else, trying to keep up in a conversation among those respective professionals can be challenging. Pool building, just like any expertise, has its fair share of technical terms. Here are a few that can help you discuss all things pool design like a pro.
Baja Shelf
A Baja shelf is a flat, shallow area in the pool. Due to its shallow depth this is a great place for children to play or to set a lounge chair, allowing you to be both in and out of the water. This feature can be designed with tile patterns, fountains, and other elements.
Bubblers
Less powerful than a fountain, bubblers are bursts of air and water that begin underneath the surface to create a visual and aural effect in the pool. Bubblers can be combined with lights as well to create a decorative feature in your pool.
Coping
The concrete, brick, and or masonry that is used on the border of the swimming pool is called "coping". Typically the coping sits above the water level of the swimming pool and creates the edge of the pool deck.
Fountains
Fountains are just what they sound like and create great water features for pools. Fountains can be placed in the pool, or to the side, and can also be combined with lights.
Grotto
A grotto is an imitation cave. This can be built with real or imitation rock and offers a shaded, natural feel in the pool. Waterfalls, lights, jets, and other features can all be incorporated into the design of the grotto.
Infinity Edge
Your pool can be designed without the traditional coping with an "infinity edge". An infinity edge allows the water to spill over the side of the pool into a reservoir.
Integrated Spa
An integrated spa, or attached spa, allows you to have both pool and spa built into one design. Instead of having two separate structures, jets and seating can be integrated into an area of the pool.
Waterfalls
This is a simple one, but can play a large role in the design and aesthetics of your pool. Waterfalls add the sound of moving water and can be created in a number of different ways.
If you are considering a pool for your home it's important to find a pool contractor that understands what you want and has the experience and expertise to make it happen. Lucas Firmin Pools designs, builds, and services residential and commercial pools in the Baton Rouge area.