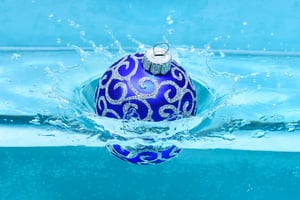 Some gifts are made to go under a tree or in a stocking, some look, fit, and feel better in your pool. Just because the temperatures have dropped, and it may be a few months before you dip back into your backyard oasis, it doesn't mean you can't have some fresh, new items and accessories ready to go for next spring and summer. If you have a pool or are planning to build a pool, here are few things to add to your holiday shopping list.
Polaris 360
The Polaris 360 is a pressure side automatic pool cleaner. It connects to the pressure line of your pool and sweeps, scrubs, and vacuums the floor, walls, and steps. This may seem like the pool equivalent of buying someone a vacuum cleaner for Christmas, however, this gift can save a lot of time and energy for you while keeping your pool cleaner than ever.
Polaris TailSweep Pro
If you already have a Polaris or are planning to buy one, you may also want to consider the TailSweep Pro. This retrofit accessory prevents the cleaner's sweep hose from spraying water out of the pool. It's not uncommon for windows, furniture, and other things to be randomly sprayed as the Polaris cleans the pool. This accessory also enhances the cleaner's performance by increasing its sweeping action.
Water Test Pens
Testing and treating your water is an essential part of owning a pool. It ensures that water is healthy, safe, and clean. However, with water test pens, you can take some of the friction out of testing your water with drops and strips. Designed to be fast, accurate, and simple to use, these pens test your water and provide temperature readings.
Spring Float Recliner
With a headrest and footrest, you can now truly recline in your pool. No more fashioning noodles and rafts into a lumpy, unstable contraption. Spring Float Recliners make it easy to relax, come in a variety of colors, and even feature a convenient cup holder.
Ledge Lounger
If your pool features a tanning ledge, you can bring it to a new level with a Ledge Lounger. Ledge Loungers are patio furniture designed to be in the water. Comfortably designed and aesthetically pleasing, you can be closer to the water than ever before. These pieces will change the way you experience your pool.
These are only a few pool themed ideas for this holiday season. If a new pool is on your list, the expert builders at Lucas Firmin Pools build and maintain custom pools in the Baton Rouge area.