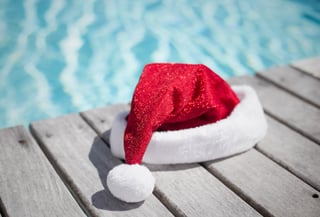 While a pool may not be the first thing on your mind this holiday season, it doesn't mean it can't make an appearance on someone's wish list. Yes, a new customized pool would be the ultimate stocking stuffer, but that's not what we mean. Let's a take a look at these five holiday gifts that are perfect for pool owners, and easier to fit under the tree.
Wireless Floating Speaker for Your Pool
Whether you're working around pool or entertaining in the pool, this waterproof, wireless, floating speaker is the perfect way to add to your pool. Using Bluetooth you can connect any device within 150 feet of the speaker. You can also hear the music underwater.
LED Pool Lighting
Updating lighting is a simple way to upgrade the aesthetics and functionality of a pool. Not only will this enhance the atmosphere, but changing to LED lighting can also lower energy costs.
Underwater Smartphone Case
For anyone that spends a lot of time around the water the thought of dropping your phone in the pool or forgetting to take it out of your pocket can be a scary one. With a waterproof underwater smartphone case that fear can be a thing of the past. Take pictures underwater, answer a call, or return a text without leaving the comfort of the pool.
Floating Cooler for Your Pool
A floating cooler helps you keep all of your summertime necessities within arm's reach. Never leave the pool to retrieve a fresh beverage with a floating cooler that can hold 24 12oz. cans and comes complete with 5 cup holders for the ultimate convenience.
Remote Control Skimmer
Tire of bending over with the old pool skimmer to clean the water? Now you can remove leaves, bugs, and other surface debris from the comfort of a chair with a remote control skimmer.
Giant Pool Floats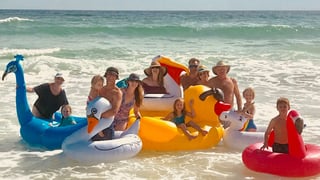 One of the more popular items we've seen in our client's pools are large pool floats in the shape of animals and other items. Not only are these fun to float on, but they add some fun scenery to your pool as well.
Now these are only a few ideas for that pool aficionado on your list. Accessories are great way to improve the look and or experience when pool season comes back around. If you are interested in pool design or maintenance service, Lucas Firmin Pools designs, builds, and services custom pools in the Baton Rouge area.