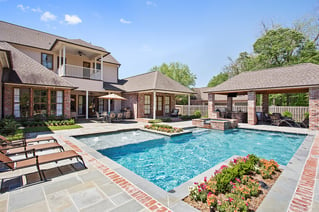 "If you want a pool so badly, dig it yourself!"
Maybe you've said it. Maybe it was said to you. Chances are it didn't end well. If you were or have an industrious child, this overwrought phrase might've ended with some very dirty kids and a giant pit in your backyard.
Don't risk it. Besides avoiding the under-aged demolition crew, there are several truly persuasive reasons to own an in-ground pool.
Check out our top 7 reasons for owning your own in-ground pool and get started designing your dream pool today!
Encourage early water safety and swimming skills:

With an in-ground pool always waiting, there is no greater incentive to get your kids swimming today. Encouraging water skills in childhood can build confidence and promote healthy choices from an early age!
Built-in gym for every age and fitness level: Don't feel like strapping on your sneakers or battling the hordes at the gym? A pool can be the perfect gym any time of day. Swimming and other aerobic water activities strengthen your body and build muscle while reducing stress on your joints and minimizing pain, making it the perfect workout for any age or fitness level.
You can customize the pool completely: With a skilled pool builder, you can create the completely customized pool of your dreams. Hate chlorine? Consider a saltwater pool! Want a small cocktail pool for your pint-sized backyard? You can do that. Size, accessories, filter, and lighting options—it can all be customized to your specifications!

Add acoustic and visual enjoyment to your home:

Besides the dimension of fun and excitement a pool adds to any summertime party, a babbling, well-lit pool adds incomparable ambience to any night.
Conveniently close: Does wrangling your kids, their toys, and all of the necessary sun and water safety equipment take the fun out of a day at the pool? When the pool is in your backyard, the trip is decidedly easier. Besides you have the peace of mind of knowing exactly where your kids are.

Possibly tax deductible:

A pool not only adds ambience and enjoyment to your home, but a beautiful concrete in-ground pool can be considered a major home improvement. Talk to your accountant about claiming your new pool on your taxes this year. And if properly maintained, a concrete in-ground pool can add value to your home for decades to come.

Building in the fall and winter can save you a bundle:

Building in the fall and winter months will not only ensure that your pool is ready to dine into on the first day of spring, but you also have the focus of your contractor's labor and resources, possible discounts and off-season deals, and time to carefully design your pool, lighting, water features, and landscaping.
Convinced? We thought so! For more information or a free consultation, give the pool building and maintenance experts of Baton Rouge a call. Lucas and Jenny—along with the rest of the Lucas Firmin Pools team—are here to build the pool of your dreams.
Why not get started today?