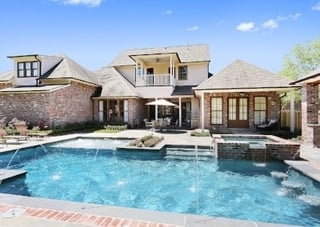 You've already made the most difficult decision: you've decided to build a pool. Reward yourself with the custom-designed pool of your dreams. Stairs or stepladder? Tanning ledge or diving board? We've got ideas for every taste. So wet your whistle with these design elements!
Shape: From Roman to rectangle, L-shaped to oval, the first design element to consider is the shape of your pool. While fiberglass pools do offer many pre-fabricated molds, concrete and shotcrete pools are completely customizable to the size and shape of your choosing.
In-pool options: Whether you want to test the waters without jumping in or need a respite from treading water, equip your pool for every mood with tanning ledges, in-pool seating options, and more!
Water features: As temperate as Louisiana weather is, you may not use your pool every day of the year. Waterfalls, fountain walls, and deck jet displays can help create an ambient atmosphere that you can enjoy all year long.
Lighting: Speaking of atmosphere, nothing completes a hot summer evening like a swim among the stars. Illuminate your pool with lighting displays that suit your tastes, not just the mold.
Coping & Decking: To cap it off (incoming pun…), let's talk about coping. Coping is the concrete or stone material used to cap (you see what we did there?) off the wall of your pool. Along with decking, coping helps to highlight and define your pool. So whether you prefer travertine or Pennsylvania blue stone, brick or concrete, find the coping and decking that suit your style!
Landscaping: And of course, there's no better way to show off your perfect pool than proper landscaping. Whether it's a classic and simple or tropical and lush, set the scene for every season with your perfect landscape.
When it comes time to construct your perfect pool, find a pool builder who will go above and beyond to realize your paradise. Call Lucas Firmin Pools for a consultation today!