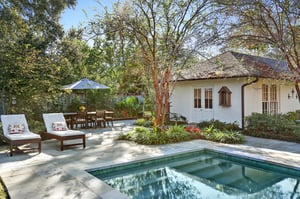 Life hacks have become a popular blog and YouTube topic. The theory behind these "hacks" is using common things (cleverly) to make common problems or tasks easier to solve and do. Whether you are repurposing containers, salvaging iPhone cords, using frozen grapes to keep your wine cold, or just want a simpler way to care for your pool, there's a hack for that. Here are four tips that you may not have thought of to keep your pool clean and comfortable this spring and summer.
Remove Oils from the Surface of the Pool Water
We put a lot of things on our skin that we may not consider when we jump in the pool. Sunscreen, makeup, hair products, and more all follow us into the water. While your filtration system takes care of a lot of these, it's hard to prevent that initial sheen that can linger on the pool's surface. One easy way to combat these elements is by placing tennis balls around the perimeter of your pool, within the skimmer baskets, and in your spa. The tennis balls will absorb these oils, as well as hair and other debris before it has a chance to hit your pool's filter; keep the water clear all day long.
Cleaning Pool Tiles
The tiles that adorn your pool are a key aesthetic feature. The cleaner they look, the more beautiful your pool becomes. However, scrubbing tile takes away from the relaxing atmosphere you enjoy when you're poolside. Not anymore. Removing scale and stains from pool's tile and plaster can be easily done with a simple baking soda and water solution. With a sponge, small brush, or rag, dip it into a paste made from water and baking soda, and apply it to the tiles around the surface of the water. A bonus feature of this solution is that baking soda can actually raise the pH level of your pool. Keeping the pH level of your pool above 7.2 can prevent any grime from developing on pool tiles.
Using D.E. Powder in a Sand Filter
Your pool has one of three different types of filters; sand, diatomaceous earth, and cartridge. They each have their own different benefits and advantages. If you have a sand filter it's not uncommon for it to struggle with fine particles. However, by adding one cup of D.E. (diatomaceous earth) can help. Add the powder to your skimmer, this allows it to circulate though the filtration system.
Keeping the water in Your In-Ground Pool Cool
In south Louisiana it doesn't take long for your pool to feel like a hot tub. 90-degree water offers little relief from 95-degree temperatures. However, you can make it a few degrees more comfortable with the addition of aerators. Adding one, or a few, aerator valves to the walls jets of your pool can provide a little break from the heat and humidity. Running your aerators and fountains overnight can maximize the cooling effect.
These are only a few clever ways to keep your pool clean and cool over the spring and summer. Lucas Firmin Pools builds custom pools and services residential and commercial pools in the Baton Rouge area.