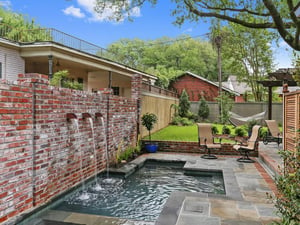 Downsizing is common during different periods in our lives. Whether you are transitioning from a large car to a smaller, more efficient one, moving into a smaller house because you don't the space anymore, or simply just purging things from the closet and garage that you don't use; good things do come in smaller packages. The same can be said, and done, with your home's pool.
If you have a pool in your yard, and it was built several years ago, you may have noticed the different advancements in technology and design that have been made recently. From new aesthetic features, custom design implementations, and more efficient pumping and filtering systems; pools being built today are much different than pools built even 10 years ago. One of the biggest, so to speak, and latest trends, are cocktail pools.
These small pool designs are perfect for areas with limited space. Even with a smaller size, cocktail pools can be flexibly designed to allow for the same features you'd expect from a full size pool. Cocktail pools are easy to maintain saving you time and money while still keep your pool clean. They can also be used in multiple ways, either as spa to relax, or to cool off in the summer. Cocktail pools also offer an option from a pool renovation perspective.
If you have a full size pool in your yard and have considered updating or upgrading, downsizing may be good option for you. Your pool can be renovated and redesigned as a cocktail pool. This can be a great strategy if you don't use the pool the way that you used to, are tired of the extra maintenance, or simply just want to change up your outdoor space.
Lucas Firmin Pools creates custom cocktail pool design and residential and commercial pool remodeling.