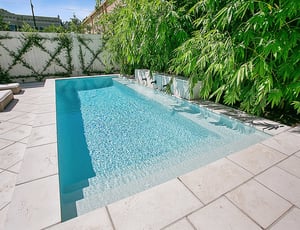 If you have a small yard or limited space on your property, you may have thought that a pool was out of the question. However, there are pool varieties and many design options that can be perfect for any space. These smaller pools can boast all of the amenities of a traditional size pool, but are perfectly designed and placed in even the quaintest of spaces. Here are a couple pool layouts that can work for your home.
Cocktail Pools
Cocktail pools are the perfect fit for relaxing and entertaining in an undersized backyard. These customizable gunite pools are designed to fit any space without sacrificing your favorite pool accessories—like dynamic water features, ambient lighting, and even underwater jets. Whether you're looking for a classic geometric cocktail pool or something a little more freeform, your space and landscaping can be used to create a pool that's the ideal size and shape for your backyard.
Lap Pools
Lap pools are shallow, generally rectangular swimming pools which can be designed to run along the perimeter of your property—adapting to corners and natural topography as necessary. This makes them perfect for narrow, or oddly shaped yards.
At Lucas Firmin Pools, our team of pool building and maintenance experts are dedicated to working with you and your space. Whether it's a lap pool with all the bells and whistles of a cocktail pool, or vice versa, Lucas Firmin Pools is here to build the custom inground pool that fits your style and your yard.