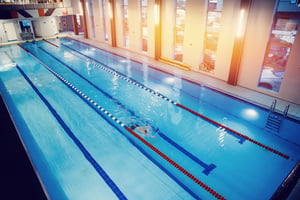 Pool maintenance and service is a critical responsibility for any pool owner. This is especially true for commercial properties like apartments, gyms, condos, hotels, and more. Your pools and water features serve as an amenity for your residents and guests to enjoy. It is important to ensure that your pool is safe, the water is healthy, and that your investment in these assets is protected. While regular, routine maintenance is the key to keeping your pool sparkling clean and safe, there are some common mistakes that can be made that actually achieve the opposite of this goal. Here are a few pool maintenance mistakes to be aware of for your commercial property pools and water features.
Ignoring Your Pool's Skimmer Baskets
Clogged skimmer baskets can create many problems for your pool's pump and filtration system. Depending on the time of the year and the landscaping around your pool, these baskets may need to be emptied several times a day. The poor circulation that congested skimmer baskets can create will hinder your pool's ability to filter the water and make your pump work harder than it is designed to do. Even if you have a weekly maintenance service, you should check these baskets in between appointments.
Poor Pool Water Chemistry
Maintaining the chemistry within the water of your pool is one of the biggest, if not the biggest, responsibility of owning a pool. The pH levels and other chemical information should be checked at least twice a week during the busy spring and summer months, and less frequently during the winter when activity is lower.
Calcified Pool Tiling and Walls
Scrubbing and brushing the tiles ands surfaces of the pool can easily be overlooked. Unfortunately, this leads to the build up of algae and calcification. As these buildups increase, it can damage the different surfaces of pool, becoming unsightly while impacting the clarity of the water. Brushing and vacuuming on a weekly basis can extend the life of your pool and save money.
Incorrectly Cleaning Pool Filters
There are several different types of pool filters, and each needs to be cared for in specific ways. Whether you have a cartridge, sand, or DE filter, the date of the most recent service should be marked on the filter. While backwashing is necessary for most filter types, it is only beneficial if done on the correct schedule. Backwashing sand and DE filters too often can limit their ability to clean.
Not Recognizing Potential Dangers Around the Pool
The safety of your pool is determined by much more than what is inside your pool. Child safety fencing and access, cracks in the concrete or decking around the pool, lighting, and more peripheral elements all need to be in proper working order.
Inadequate Pool Pump Usage
The pump acts as the heart of your pool. It keeps the water circulating and fresh. During the summer months the pump should be running 8 to hours, depending on the size of your pool, in order to keep the water clean and clear. Running your pump minimally can create cloudiness, discoloration, and other water issues.
The pools on your properties require a lot of attention in order to remain safe and healthy for use. Lucas Firmin Pools offers pool maintenance and other services for commercial pools in the Baton Rouge area.