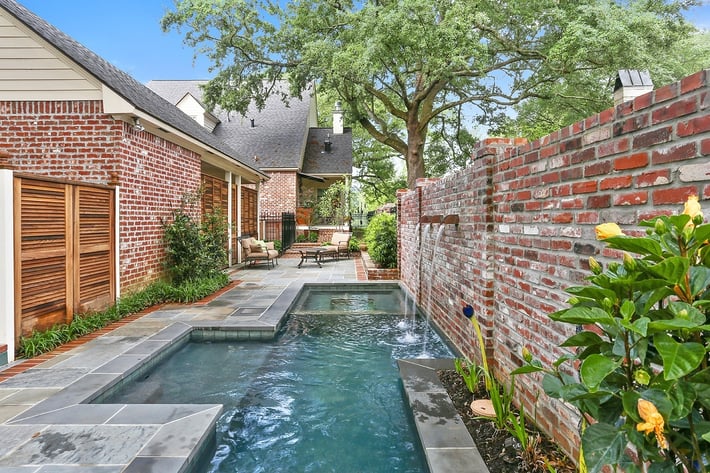 When designing the perfect outdoor space for your in-ground swimming pool, deciding on the right deck is a key step in the process. As with any major home construction project, you've probably narrowed your choices down by asking yourself the following questions:
Does the decking material fit with my design ideas?
Will it be functional for everyone using the pool?
Is it in line with my budget?
These are all excellent points. But after you've taken all of these design factors into consideration, don't forget to ask yourself the most important question:
Which decking option is right for my pool?
That's a pretty tough question to answer. But have no fear! To make your decision easier, we've broken down 9 common pool decking options into their pros, cons, and defining characteristics.
Check it out.
Grass: The natural beauty of a swimming pool surrounded by green grass is tough to beat. Grass creates a warm, comfortable space for your in-ground pool surrounding. It's also affordable, low maintenance, and easy to install. Of course, clippings and dirt getting into the pool can become an issue if people are regularly going in and out of the water. And it can be harder to place chairs or tables around your pool if the soil becomes uneven. But if you're looking for a no-frills swimming pool deck that's barefoot-friendly even at the height of the Baton Rouge heat, a grass deck could be the right move for you.
Travertine: Travertine decking lets you create a beautiful setting that will hold up to the wear-and-tear of our record-breaking Louisiana summers. With its ability to absorb water, travertine stays cool and is practically slip-proof. And, of course, travertine decking gives any pool an old-world, artisan appeal that simply cannot be faked.
Concrete: A popular and economic choice, concrete is a staple of pool decks everywhere for several reason. Concrete decking requires minimal maintenance, provides great traction to prevent slippage and injury, and can be beautifully customized with stamped patterns to suit your individual style.
Flagstone: The rich, earthy tones of flagstone decking can create the illusion that your pool was carved out of the surrounding stone—perfect for a personal grotto. Durable, non-slip, and heat resistant---flagstone meets the key functionality standards of other surfaces while having a unique style all its own.
Brick: The results are in---everything looks better when it's lined with brick—including your pool! Brick decking provides a clean, classic appearance while remaining extremely durable for years to come. Show off your creative side with unique setting designs and feel good about your investment knowing that brick only gets more beautiful with age.
Bluestone: Bluestone decking looks best when set against the lush, tree-filled landscapes of the great Louisiana outdoors. Tree cover also helps keep the surface cool through the long Baton Rouge summers. Water- and slip-resistant, bluestone checks all of the boxes for creating a functional, one-of-a-kind space.
Pavers: Pavers have long been a popular choice for swimming pool decks and patios. Stylish, customizable, and easy to replace if damaged, pavers also allow for easy expansion if you decide to add onto your deck in the future.
Limestone: No matter the weather elements, limestone holds up to the challenge. Not only is it durable, but its shape and color can easily be personalized to your design specifications. In addition to decking, limestone is also an excellent option for pool coping.
Keystone Kool Deck: Have I mentioned that it can get a little warm in Louisiana? Installed over existing concrete, Keystone Kool Deck keeps surfaces at a comfortable temperature and can be fashioned to resemble a number of different deck types.
Now that you have a better idea of the decking options for your Baton Rouge in-ground pool, call the experts at Lucas Firmin Pools to make your dream a reality. This is the perfect time to start building your pool, so give us a call today for a free consultation.