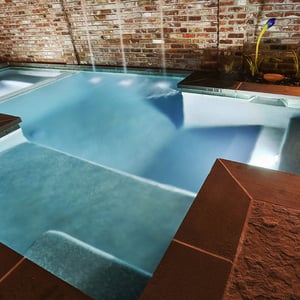 Just like your house may need a new coat of paint every few years, it's not uncommon for your pool's surface to need an update. This is especially true in south Louisiana, where you can use your pool the majority of the year. This extra activity can take its toll on the gunite walls, floors, steps, and edges that create the structure of your pool. If you've noticed any cracks, rough spots, or any other unsightly areas, it may be time to consider replastering or resurfacing your pool. But what exactly does that entail?
What is replastering?
Replastering is the process of adding a new layer of plaster to the walls and bottom of the pool.
What does plaster do?
Plaster provides a waterproof barrier for the gunite or concrete that creates the shell of your pool. Both of these materials are naturally porous, which is why your pool builder will cover the surface with a layer of plaster. Without this layer, your pool would periodically drain itself through the pores in the surface. This layer of plaster also creates a nice, smooth feel and appearance. Your plaster surface can last anywhere from seven to twenty years, depending on activity and care.
Why should you resurface your pool when it needs it?
If your pool is approaching this age range, or you've noticed some rough areas, cracks, or other issues, you don't want to ignore these signs. Certain minerals like copper or iron can create stains on your plaster over time. Not only does this mar the appearance of the plaster, but these stains can also discolor the water. Bumps, lumps, dimples, and coarseness are also signs of aging plaster. These areas can create uncomfortable and painful spots in the pool. They can also damage to bathing suits and other pool accessories in addition to injury. Damaged plaster can also create structural integrity issues for your pool. If these areas of aged plaster are allowing water to permeate through to the gunite shell of your pool, it can cause significant structural problems.
If your pool is approaching or has passed that seven-year mark, or you've noticed some areas that are becoming rough or showing signs of wear, you should strongly consider resurfacing. This will restore the health, appearance, and value of your pool. The experts at Lucas Firmin Pools build, maintain, and repair pools in the Baton Rouge area.