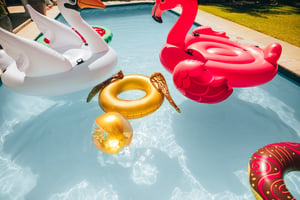 This year it may be time for Santa to skip the chimney and head straight for the pool. If you have a pool owner on your Christmas list, or are one yourself, don't the let the cool December weather take your mind off of your backyard paradise. Here are some great gift ideas that can make your home's pool even better.
Pool Gift Ideas for the Kids
Waboba Balls- The ball that actually bounces on water. With a number of different colors, designs and styles, these will be fun for everyone all summer long.
Bulzibucket- Whether on the pool deck or in the water, this new game is the next evolution of cornhole. A vertical stack of three buckets can float in your pool while you attempt to toss the soft, waterproof ball in for the most points. It is easy to assemble, store, and transport.
Jet Net- This remote-control pool skimmer can be a great way to get some help with the pool maintenance. Simply attach the skimmer to the boat shaped device and have fun cleaning the pool, yes, all at the same time.
Pool Floats- Pool floats today go way beyond your classic raft or mat. New fun shapes and animals come in all sizes.
Pool Gift Ideas for the Family
Fat Towels- Fat Towels is a company that is know for luxury bath robes. Their feature product shares the company name, and is a very thick, super absorbent towel that weighs six pounds.
Ledge Loungers- This in-water furniture option allows you to experience as much of, or as little of the water as you'd like. Give your backyard that resort feeling with ledge loungers that come in a number of designs.
Bluetooth Floating Speaker and Light Show- This waterproof Bluetooth speaker doubles as a light show that is perfect for any evening. It holds a charge for six hours and easily connects to any Bluetooth-enabled device.
Pool Gift Ideas to Make Things Easier
Polaris TailSweep Pro- Tired of getting sprayed by you Polaris pool cleaner? With the Polaris TailSweep Pro you won't have to worry about a surprise shower as you sit pool side or clean water spots off of nearby windows. This retro-fitted accessory keeps the Polaris' sweep hose from breaching the surface of the water. It also enhances the sweeping action of the cleaner, making it more effective.
SkimPro Skimmer Basket- This skimmer basket is perfect for pools that attract a lot of leaves. It features a tower that prevents clogging, and protects your pump motor from being damaged due to low water flow. You can also empty this basket without getting your hand wet.
Whether you're shopping for a friend, family member or yourself, there are a lot of options for making time at the pool more fun. However, if the only thing your missing is a pool, Lucas Firmin Pools builds custom pools in the Baton Rouge area.