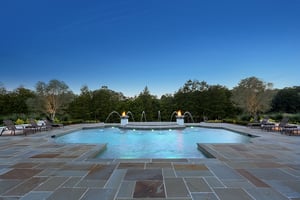 Are you thinking about renovating or installing a new pool? Now is the perfect time! In an increasingly hectic and stressful world, the pool has become a healthy and refreshing escape to the outdoors. A new pool has the potential to become a beautiful addition to any backyard, as well as a space that creates priceless memories. Build your private oasis today with these tasteful trends that are sure to make a big splash in 2021.
Tile Inlays for Your Pool
One of the most versatile and long-lasting pool inlay options is tile. Tile is available in an infinite array of colors and configurations. Tile inlays are also friendly for those with furry friends who like to swim. With tile, you don't have to worry about pets ripping a plastic liner, costing you potentially thousands in repairs. Tile can be styled as minimally or as extravagantly as you desire to match your tastes. For those seeking a more modern feel, an all-black or all-white tile inlay is exceptionally sleek and sophisticated. For a more spa-like ambience, natural colors or simulated stone tile inlays provide a grounded, relaxing effect.
Cocktail Pools
For those with less space that makes building a full-size pool unfeasible, cocktail pools are an excellent option. A cocktail pool has all the benefits of a regular pool except it features a more compact and streamlined size. A cocktail pool provides a sleek and more modern approach to pool ownership. For the more environmentally conscious, a cocktail pool has the added bonus of saving on chemical and water resources.
Fire Features for Your Pool
Fire features are a romantic and cozy option that is becoming an increasingly popular way to light up any pool area. The soft, warm lighting of a fire feature provides an intimate and welcoming atmosphere for those long summer nights. Fire features are available in an array of design options to suit any pool. They can also be paired with other water features to provide a stunning visual effect.
Rain Descent Water Features
A soothing and visually pleasing design option, rain descents mimic the relaxing effects of rain. Also known as rain curtains, rain descents are available in a variety of options, from a few arch projections to a full-sized wall that frames the whole pool. Rain descents are an excellent addition to any pool.
Renovating or installing a pool can be stressful. One wrong move and it can cost you thousands of dollars and cause an unnecessary headache. That's why it's important to leave it to the professionals. With Lucas Firmin Pools, you will get more than just a pool. You will get one-on-one personalized customer service and design expertise that is second to none. Whether you are entertaining or relaxing, Lucas Firmin will make your pool dreams come true.