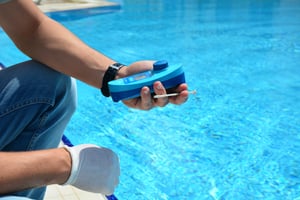 Water is the most essential element of your pool. Without it, you only have a concrete hole in your yard. The water is what provides hours of fun, countless memories, and refreshment and relaxation. This is why it is so important to keep it clean and maintained. Clean, clear water that is adequately treated keeps it safe and healthy for everyone.
Well balanced, treated water helps to keep your pool crystal clear. Clear water is important for the safety and usability of your pool. Discolored, murky, and cloudy water can be a sign that something is wrong. Whether it's malfunctioning pool equipment, improper chemical mixture, or the water's pH, water clarity is critical for the safe enjoyment of your pool.
If left unmaintained, your pool can also become a host for bacteria like e.coli, which can cause intestinal issues. Other germs can also be found and spread through the water if it isn't correctly cared for. However, it is important to know that there is no evidence that COVID-19 can be spread to humans through the use of a pool or hot tub. With routine, quality pool maintenance, you can keep your family healthy and safe.
Tips for Keeping Your Pool Water Clean and Healthy
Keep the water balanced with the right chemicals – Make sure your pool has the proper chlorine level. 1 - 3mg/L or parts per million (ppm) of chlorine maximizes the water's germ cleaning ability. It should also have a pH of 7.2 – 7.8. Test the water regularly to ensure it is staying clean.
Shower before entering the pool
Rinsing off before entering the water help remove dirt, oils, and other elements that can affect the water.
Skim out any debris
Leaves, sticks, grass, and other debris can be on the surface of the water, sink to the bottom of the pool, and end up in your skimmer baskets. Skimming these things out of the water can help to keep it clean and clear.
Whether you do it yourself or hire a professional, keeping your water well taken care of is an important responsibility as a pool owner, and should be a priority. The expert staff at Lucas Firmin Pools helps Baton Rouge homeowners take care of their pool.