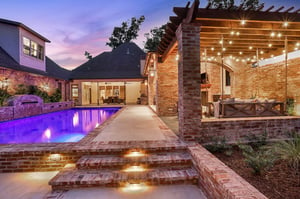 Swimming pool styles and designs have come a long way. Of course, you can never go wrong with the classics, but new trends, materials, additions, and ideas are changing the way that people think about pools. In fact, you no longer need a lot of space or a large yard to enjoy your own personal paradise. Cocktail pools can be built in limited spaces like courtyards. While they may be smaller in size, they can feature all of the comforts and amenities of a traditionally sized pool. So, if you are thinking about building a pool, large or small, here are some of the latest trends you may want to consider.
Dark Colored Pool Materials
Darker colored materials are becoming more popular for pools. The interior finish of you pool can dramatically change its appearance and the overall aesthetics of the space. Darker colors like deep blues and grays create a natural, lagoon-like look and relaxing feel.
Sun Shelves in Your Pool
Sun shelves, or tanning ledges, offer more versatility within the pool. Adding this contrast to the elevation and depth of your pool can improve its functionality for all ages and abilities. Whether you use the sun shelf as a place for small children to enjoy the water, or you relax in a deck chair in the shallow depth, this design element can enhance your overall experience.
Rustic Stone Pool Materials
Rustic stone is a great way to enhance your pool. Whether you incorporate smooth stone pavers around your pool or add a rugged, rocky waterfall to create the tranquil sounds of nature, there is a wide variety of rock materials that will fit your taste.
Pool Automation
Maintaining a pool takes work. Ensuring that the water is clean, clear, and healthy is an important job. Keeping it free of debris protects the structure and materials in your pool. Today, as with most things, you can automate the chore of pool maintenance. With robotic pool cleaners and timers, you can make sure that your pool is clean and safe, while you relax.
Single-Depth Pools
Depending how you plan to use your pool, a traditional, graduated depth design may not suit you. This is why single-depth pools are becoming more popular. If you plan to use your pool for exercise, for example, single-depth pools are ideal for lap swimming and water aerobics.
These are only a few trends that are becoming more common for in-ground pools. The beauty of a custom pool is that you can create exactly what you want. Lucas Firmin Pools is a custom pool builder in the Baton Rouge area.