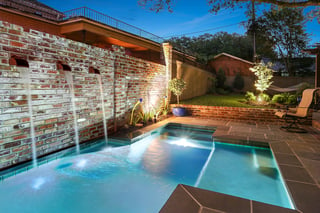 Whether he's in the field personally managing each and every pool's design and construction, or she's out maintaining our existing pools, Jenny and Lucas often get the question: What sets Lucas Firmin Pools apart? We've got three major reasons why.
Residential: Lucas is a licensed commercial and residential contractor. Working in the pool building industry for over twenty years and as a small business owner for eight years, Lucas uses his expertise to build pools of the highest quality and to provide superior customer service to every client. No question or concern is too small for us. At Lucas Firmin Pools, we stake our reputation on each and every pool.
Commercial: We work with designers, architects, landscape architects and home/business owners to turn your perfect pool into a reality. We understand the importance of strong working relationships. Whether it's a personal backyard paradise or a commercial oasis, Lucas personally directs and manages each and every construction project. At Lucas Firmin Pools, we are committed to exceeding your expectations in every way.
Service/Maintenance: When you build with Lucas Firmin Pools, you also get the long-term benefit of Jenny Firmin's extensive experience as a Certified Pool Operator. With a team of trained technicians, Jenny manages any service or maintenance your pool might need. From weekly cleanings and water balancing to stain removal treatments and equipment replacement, we'll keep your pool in sparkling shape.
At Lucas Firmin Pools, we treat every construction and remodel as if it was going in our own backyard. Contact us for a free quote and join our family of pools today.