The Cost of Building a Pool in Baton Rouge: 5 Things to Know
Dirt Hauling and Land Clearing
Extended Decking
Electrical Work
Landscaping
Taxes and Permit Fees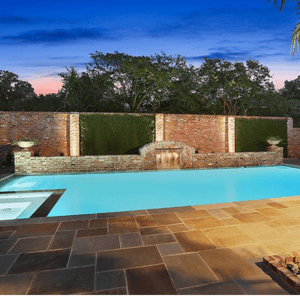 The price of anything is determined by a wide range of factors. This is especially true when you are considering building a custom pool in your yard. Of course, you probably have an idea of what it may cost depending on shape and size, but there are a lot of variables that come along during the pool building process that you may not have expected. Here are five common things that will influence the final price of your new pool.
Dirt Hauling & Land Clearing
Your yard's current terrain will determine how much excavation and clearing needs to be done to accommodate the shape and size of your pool's design. The equipment and labor involved in this activity can increase the cost of your pool, so be sure it is included in your builder's quote.
The space around your pool is as important as the pool itself. In terms of usability, comfort, and aesthetics, the size, shape, and materials of your decking will make all of the difference in the world. However, if you opt to go beyond what is typically built or have decking that extends into a patio or other structure, it can inflate in the cost.
Your pool is a machine that run on electricity. From the pump and filtration system, to water features, to lighting; quality electrical work is essential for your pool to operate. This work is typically included in an estimate, however, some contractors may outsource this as a separate invoice.
Landscaping can take your new pool to the next level. From selecting certain types of plants that complement the space to landscaping features that help to keep your pool clean, there is a lot to consider. It's important to verify if landscaping is included as part of your builder's services, or if it is something you'll need to budget for separately.
When you build a pool in the Baton Rouge area you are required to register and purchase a building permit. The cost of this permit will vary based on the scope of your project. The permitting and cost of this fee should be discussed to determine if it will be included in your quote, or something you handle on your own.
Designing and building a pool is a fun and exciting thing. Now that you're aware of some of the peripheral items that come along with it, you can avoid some unpleasant surprises. Your pool contractor should be able to walk you through the ins, outs, and details of your quote, making the final price crystal clear.