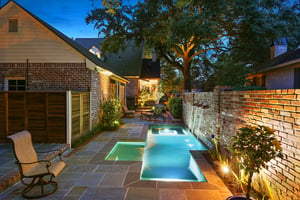 Have you always wanted a pool in your yard, but thought you just didn't have enough space to accommodate one? Maybe you filled that area with a hot tub. Maybe it remains a landscaped courtyard. With a custom cocktail pool design you can update and upgrade your small yard with the pool you've always wanted.
What are Cocktail Pools?
Cocktail pools are perfect for entertaining and relaxing in smaller yards. A gunite cocktail pool can be designed to fit in any space and accommodate the aesthetics and technology you'd expect in a full size pool. Jets, lighting, water features, depth changes, ledges, and more can all be combined to create the perfect pool, that is perfect for your home. These small, elegant pools can also include patio space and decking.
Why Consider a Cocktail Pool?
A small pool design can meet your yard's space constraints and they are easier to maintain. Even if your yard can support a larger pool, you may only want to commit a certain area or amount of space to it, making a cocktail pool the perfect solution. Small pools also allow for additional features such as an outdoor kitchen or larger entertainment area.
If you've been thinking about a pool for your home but thought you just didn't have enough space, a cocktail pool is the perfect answer. Lucas Firmin Pools specializes in high-end residential pools and spas, using only the highest quality products, materials, and equipment.