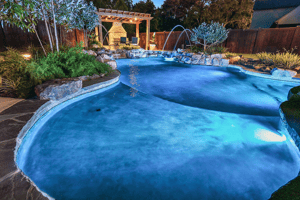 Custom swimming pools offer more options and can be a better investment compared to other alternatives. In addition to developing the unique design that meets your needs and tastes, having the right pool builder makes all of the difference in the world. Here are four reasons why you should consider a custom designed pool and an experienced builder.
Create a Pool to Your Needs and Specifications
Working directly with your builder allow you to communicate exactly what you have in mind, as well as leveraging their expert feedback to discover new options and the best way to carry this project. Instead of being limited to pre-fabricated designs and equipment, you have a blank canvas.
Have Oversight of the Pool Building Process
The most important decision you'll make is selecting your pool contractor. The right pool builder can make a lacking design better and a good design great. Everything from design to installation to maintenance afterward, a contractor that you can trust and collaborate with will make overseeing your project a great experience.
Adapt to Space and Landscaping Challenges with a Custom Pool
The topography of your yard and existing landscaping can create challenges when it comes to pool installation. These factors are accounted for by your pool builder and designer. Accounting for space constraints and terrain obstacles, allows your pool be designed in the best possible way. Whether you need address an sloped yard, twists and turns, or a limited area, there are design features that can accommodate these scenarios that used to be problematic.
Enjoy the Unique, Superior Aesthetics that a Custom Pool Provides
Instead of selecting your pool from a catalog, a custom design allows you to create a space that provides everything that you want to enjoy. From tanning ledges and water features to expanded decking and an outdoor kitchen, your pool will be exactly what you want. Furthermore, having the opportunity to select the best equipment will mean that your pool will perform better as well.
Your new pool will be the centerpiece of your home and the hub for all of your entertaining. Simply put a custom designed luxury pool simply looks and performs better. This will be a direct reflection of your tastes and needs, and will give you the most out of your investment.
If you have been thinking about building a pool for your home, the expert team at Lucas Firmin Pools builds and maintains beautiful custom pools in the Baton Rouge area.