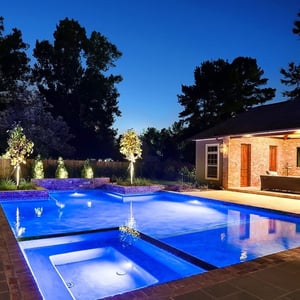 The way we do and see things changes constantly. From fashion to music to the way we do different things throughout our lives, nothing stays the same for long. Every now and then, things will make a "comeback" or be back in vogue, but at the end of the day, our tastes, needs, and options will continue to change and grow. It's easy to see it in the way we dress, the way we watch TV, what our cars look like, and countless other things; it's also true when it comes to building a new pool. Pool designs, materials, technology, and style have developed tremendously, even from 10 years ago. As we approach a new decade if this is the year you build a pool, here are some design trends you may want to consider.
Smart Lighting for Your Pool
Lighting can enhance the aesthetics, comfort, and safety of your pool like few things can. In-pool lighting, perimeter lighting, and ambient lighting all have more options than ever before. LED technology allows for multiple color options, brightness selection, and more.
Maintenance and Energy Saving Features for Your Pool
Two key considerations for anyone contemplating building a pool are the amount of time spent maintains it, and money spent powering it. This makes automation and efficiency a major focus. An automated pool cleaner can alleviate a lot of the tedious, yet necessary, maintenance. Also, energy-efficient pumps and filters can alleviate some demand on your electricity bill.
Shallow Depth Pools
Cocktail pools require less maintenance and can be artfully built in a small space. Whether you are opting for a smaller pool or a more standard-sized pool, shallow, consistent depth pools are gaining popularity. This type of pool is excellent for exercise and other water activities. It all depends on your lifestyle and the expectations you have.
Dark Interior Pool Finishes
If you are looking for more of a lagoon-like feel to your backyard oasis, a dark finish can achieve this. Dark interior pool finishes also help to retain heat by absorbing the sun, reducing the effort that your heater needs to produce. Another maintenance-friendly element of a darkly finished pool is that it doesn't show the debris and dust that lighter finishes do.
If 2020 is the year you decide to build a pool, keep these trends in mind, but most importantly, trust the process to an experienced and talented pool builder. Lucas Firmin Pools builds custom pools in the Baton Rouge area.