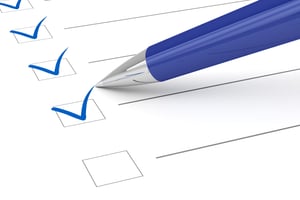 Before you head to the grocery store, it's a good idea to make a list. How you organize it is up to you, but without it you're bound to forget at least one thing. The same is true when it comes to getting your pool ready for spring. After several months of inactivity, even with routine maintenance, there are several steps you need to take to make sure your pool is up for another busy season. Just like it's hard to make a sandwich without bread, forgetting one of these steps could result in some time away from your backyard retreat. Here is a quick, simple checklist of what to take care of spring approaches.
Empty the Pool Pump Basket
Your pool's pump basket can quickly become full of leaves and other debris during the quieter months. Even if you skim regularly, or run your automatic pool cleaner, be sure to check the pump basket. This is also an excellent time to inspect it for any cracks or other damage.
Check the Pool Timer
Your pool's timer is likely set for a different amount of time since the pool has been unused. Be sure to reset it to its normal operating schedule. You may need to run a little more than usual for the first few days to adequately filter the water.
Clean the Pool Filter
Whether you have a D.E. or a sand filter, this is a great time to clean and inspect your cartridges. If you notice any cracks or tears, they should be replaced. D.E. filters should be backwashed, and D.E. powder should be added as needed. Sand filters should also be backwashed, and if your sand filter is older than three years, it's time to be replaced.
Inspect Your Pool Cleaner
Your automatic pool cleaner is one of your best friends, especially during the summer. However, over the cooler months, you may have paid a little less attention to it. Be sure to inspect your pool cleaner for any cracks, broken parts, or other damage, as well as for sufficient suction.
Empty All Skimmer Baskets
Check all of your pool's skimmer baskets and remove any debris that may have accumulated. This will help to ensure that water can freely flow to the filtration system.
Skim and Brush Your Pool
As the weather changes, you'll likely notice more debris on the surface of the pool, as well as dirt on the structure of your pool. Skim any debris out of the water and brush the walls and floor of the pool to remove anything that may have settled during the off-season.
Test the Pool Water
Once the pool is clean, and everything is ready to go for the summer, the last thing to mark off your list is to test the water. Confirming that the pH is balanced, as well as testing the chlorine or salt levels, alkalinity, calcium, and CYA levels will ensure a safe and healthy pool experience.
Lucas Firmin Pools builds custom pools in the Baton Rouge area, as well as maintains residential and commercial pools.