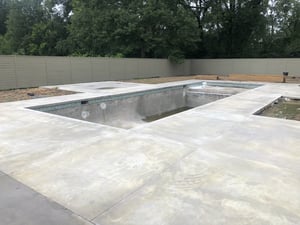 Adding a pool to your property? Deciding who to hire can be overwhelming. Choosing the right pool contractor can give you a pool that will last for years to come. However, hiring the wrong contractor can result in problems with the install and the overall quality of your pool.
What questions should I ask my pool contractor?
Ask for References.

Not only should you ask your contractor for references from their previous customers, but it's important to follow up with those references and do your due diligence. Also, make sure these references are current. If it's a customer they helped ten years ago, chances are that things have changed since that pool was built.


Ask about Their Experience.

How long has the company been in business? How many poo installs have they done in the last year? Every company has to start somewhere, but companies with bad reputations who provide low-quality installs don't stay around for long. Be sure that your pool contractor has a few years of experience and, again, has references to back up their claims.


Ask for It in Writing.

Any quotes or promises that are made should be put into writing. This written quote should include but is not limited to things like equipment, parts, labor, supplies, and warranty. As a rule of thumb, if it's not in writing, it's not guaranteed.




Ask About Their Employees.

Building a pool takes time, and the contractor's crew will have extended access to your yard and home. A good contractor will drug test and background check their employees to ensure they are safe to have on the team and on your property.
What information should I verify with my pool contractor?
Insurance:

Ask your contractor for proof of insurance and call the company to make sure it is current and active. Be sure to verify this before signing any agreements or moving forward with any projects. Even a great contractor can run into unforeseen circumstances from time to time, so don't assume that reputation is everything.




License:

The last thing you want to end up with is a contractor who isn't licensed to do the work they are performing. License requirements may vary by location but be sure they have what they need. You can also check to see if any complaints have been filed against them for the work they've performed. Remember, it's not just the pool structure they will be building. They will also be plumbing it and wiring your equipment.




Organizational Memberships.

See what trade organizations your contractor is associated with. Does their team have any trade-specific certifications? This can be very telling of how committed they are to staying educated and providing the best service.
How do I choose my pool contractor?
After you've asked all the questions above, verified all of their information, checked references, and received your quote in writing, get a second and third quote and do the same thing with them. It may seem like a lengthy process, but this is a decision that you want to take your time with and be sure of. If any quote looks too good to be true, assume that it is. If you've done your homework and you've narrowed it down to a couple of good choices, go with the one that makes you feel the most confident and comfortable.
When you're ready to start talking to contractors for a pool of your own, our team at Lucas Firming Pools is ready to help you get started! We take pride in going above and beyond for our customers to make their backyard dreams come true. Once we design your luxury, custom swimming pool, we can stick around to help you with maintenance. Contact us to get started!